10 Tourist Places in Bangkok Mandatory Visited
When it comes to travel in Bangkok, maybe there are some destinations that instantly springs to mind. Name of the Grand Palace and Chatuchak Weekend Market could be the most popular among comrades Traveler. It seems that Bangkok is less complete if not to both places!
Actually, what the hell wrote sights become an attraction for foreign tourists to travel to the Thai capital's? Well, This he 10 tourist attractions in Bangkok that must be visited and favorite!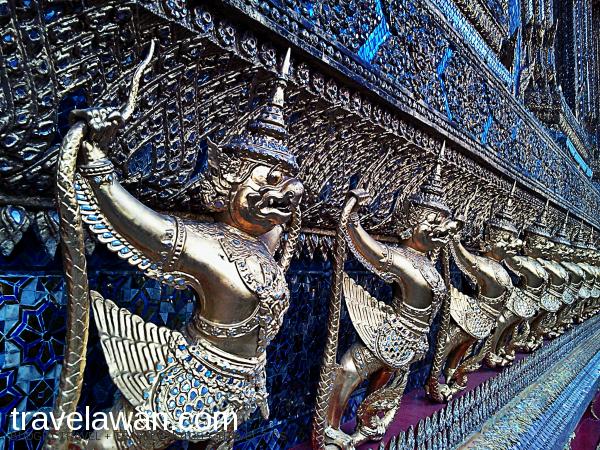 1. Grand Palace & Wat Phra Kaew
The beauty of the Grand Palace is very intriguing. Arguably the most beautiful buildings in Thailand. Built in 1782, and had become the palace of the kings of Thailand for approximately 150 year. The combination of western and Thai architecture looks very beautiful, equipped with English-style gardens. Although not currently a residential palace of the king of Thailand is, but still the Grand Palace in Bangkok attractions most visited tourist.
In the Grand Palace complex also has the most sacred temples throughout Thailand, in which there is the most sacred Buddha statue. Buddha statue with a height of only about 66 cm was made in the 14th century. Only His Majesty the King of Thailand is allowed to touch and change the Emerald Buddha. In one year there were three times the ceremony to replace the clothes of the Buddha, ie in the summer, winter and rainy season. This event is intended to bring good luck to the country of Thailand in every season. Do not forget if you enter the Grand Palace should wear modest clothing, namely sleeved shirt (instead of a tank top), do not wear shorts or sandals. Entrance to the Grand Palace - 500 baht.
Transportation: Naik Chao Phraya Express Boat dari Sathorn Pier (Saphan Taksin BTS Station) tien Pier to Tha Chang Pier right Ta, and walk to the Grand Palace.
2. Wat Arun
Famous as well as Temple of Dawn, because this temple is very beautiful when seen against the background of twilight began to redden. But if you're looking for the not so crowded to be able to take good photographs, came in the morning. This temple is one of the oldest temples in Bangkok and popular among tourists. Wat Arun building reflects Mount Meru, which according to Buddhism is at the center of the universe.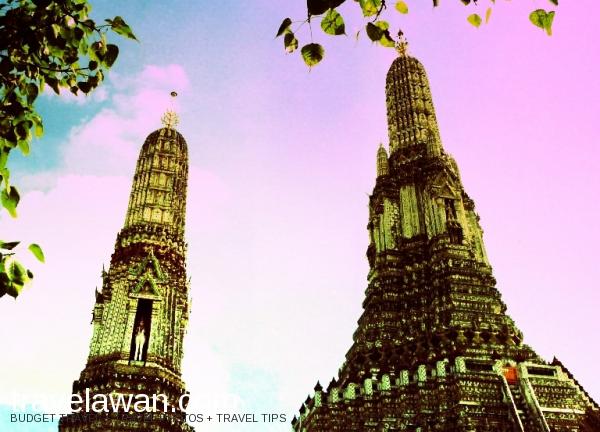 Wat Arun is located on the Thonburi side, contrary to the Rattanakosin Island, where the Grand Palace and Wat Pho are, separated by the Chao Phraya river. Wat Arun is included as one of the most beautiful temples in Thailand.Prang, or middle-high monument 70 meter, become landmark famous not only in Bangkok, but in the whole world. Filled decoration of Chinese porcelain and glass misaik beautifully appointed. Not surprisingly, Wat Arun became the most popular tourist destination tourists, after the Grand Palace.
Business hours: 08.30-17.30
Transportation: Naik Chao Phraya Express Boat dari Sathorn Pier (Saphan Taksin BTS Station) Wed Tha Tien Pier. From Tha Tien ride the shuttle to get to the small boat across the Chao Phraya. Tiket shuttle boat 3 baht.
3. Chatuchak Weekend Market
If anyone plans a trip to Bangkok, make sure you are there in this city on Saturday or Sunday, because it is held on the weekend Chatuchak Weekend Market, one of the largest markets in Asia. Is a weekend favorite places Bangkok residents and visitors. During the commute to Bangkok, I never saw Chatuchak deserted. Here was the one where you can shop for souvenirs to attract fashion products in small boutiques in the section near the MRT station Kamphaeng Phet. Do not forget to wear comfortable shoes and clothes, ready circumference and shop until you drop di Chatuchak!
Transportation: Naik BTS ke Mo Chit Station atau MRT ke Chatuchak Station atau Kamphaeng Phet Station.
4. Wat Pho
Wat Pho or Wat Phra Chetuphon is a temple that has stood for hundreds of years and is one of the oldest temples in Bangkok. Is home to the Reclining Buddha (Reclining Buddha) gilded, along 46 meter, with high 15 meter. The location of this temple is not far from the Grand Palace, about 10 minute walk.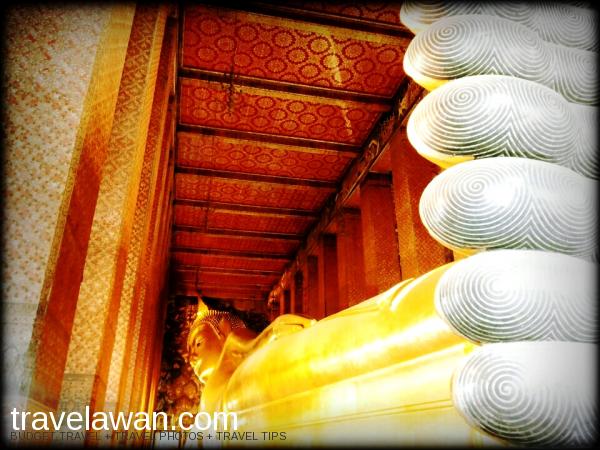 Complex Wat Pho is also the institution to learn traditional Thai massage or Thai massage. So besides traveled, You also can all feel the traditional massage, open from 8 morning to 5 sore. Entrance to Wat Pho is 100 baht, do not forget to wear decent clothes, like if we go to the Grand Palace.
Address: Maharat Road, walk about 10 minutes from the Grand Palace
Transportation: Chao Phraya Express Boat, down at Tha Tien Pier, walk to the crossroad Maharat Road, after market Tha Tien.
5. Khao San Road
Just like Chatuchak Weekend Market, the other place which is closely associated with the city of Bangkok is Khao San Road. This small road into a surge for backpackers from around the world. Khao San Road was once one of Bangkok rice market. But over time eventually developed into a backpackers place to hang out because there are many cheap accommodation, ranging from hostels with dormitory rooms, until the star 3.
Along the road are filled with a wide variety of outlets that sell fashion products, accessories and more. Travel agent, tempat tattoo, reflexology and more. Finding food is also easy here, many restaurants, Coffee, and bars. Ranging from traditional Thai food such as Tom Yum, Pad Thai dan Mango Sticky Rice, to international menus. Snacks are also many street vendors. Some are selling spring rolls, ayam goring goring hingga serangga. Khao San Road atmosphere from many mid-afternoon until midnight.
Transportation to Khao San Road can be read in this article: Transport And How To Go To Khao San Road, Bangkok.
6. Chinatown (Yaowarat)
Most large cities in the world would have a Chinatown area, no exception to Bangkok. This region is also popularly known as Yaowarat, because it is bypassed by this Yaowarat road. Activity in this area is never empty. Various outlets spices, drug store, market to gold shops. There are so many interesting things you can find around Chinatown Bangkok. It is suitable for you who like photography to hunting.
You can down Charoenkrung Road and enjoy the hustle and bustle in the region, an experience in itself. There Sampeng Lane and Pahurat, along the road where there are stalls textile sellers, which is open from 9 morning to 6 sore. There are also a variety of restaurants along the way. Cooking aromas invite for our sample. In this area there is also a famous temple because in it there is a statue of Buddha 5 meters made of pure gold weighing 5.5 tone, yaitu Wat Traimit.
Address: Traimit Road, Chinatown (the west side of the train station Train, near the intersection of Krung Kasem and Rama IV Road)
Business hours: 09.00 – 17.00
7. Canals of Bangkok
Since the number of lines the small rivers around Bangkok which empties into the Chao Phraya, then Bangkok that has meaning City of Angels, can also be a nickname as "Venice of the East", aka Venesia-nya Timur / Case. Well, canals in the Thai language called "Klong" This, also interesting to explore. Even now many channels to be stacked street, but there are many that serve to transport and trade. There are several points to be made canal floating market.
Klong become a tourist destination for the tourists. There is also a museum that you can easily go to hire a longtail boat, namely the Museum of Royal Barges, which holds a collection of wooden boats wonderful government.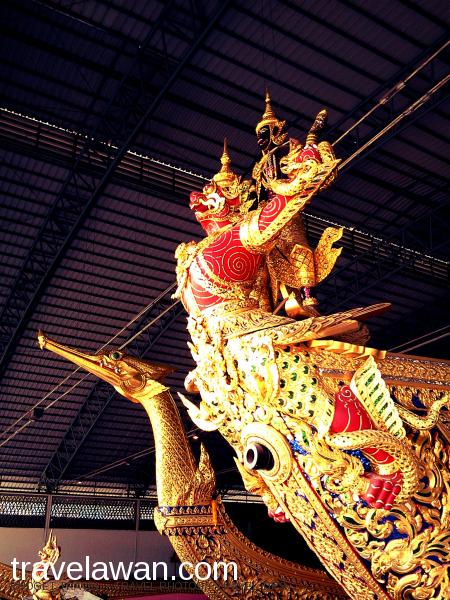 Museum of Royal Barges which stores a collection of royal ships
Klong Tour by longtail boat is usually around 1-2 hour, depending on the purpose of our. For a ship usually fit up 4 person and the rent is between 1.000-1.500 baht. Price does not include admission to tourist attractions, such as the Royal Barges Museum, Thonburi Snake Farm Wat Arun.
8. Asiatique The Riverfront
The road to the Asiatic guns certainly lose addictive. Shopping and hang out are popular among the people of Bangkok and tourists. Because the concept is a shopping, culinary and recreation that utilizes the old warehouses of the era of the early 1900s, that's why this place is just starting its activities in hours 5 sore, so that visitors comfortable and not overheated.
Asiatique is home to hundreds of stores, store, restaurants and cafes. It's right on the edge of the Chao Phraya river, where there is a vast courtyard for you to enjoy the view of the river that divides this Bangkok, while taking pictures. Oh ya, Eye also know there are Bangkok! Ferris wheel raksasa, where you can see a view of the lights of the water the city of Bangkok from a height, enough to pay for a ticket for 250 baht per person.
Address: Chareonkrung Soi 74-76
Business hours: 17:00-24:00
Locations: Transportation: Naik ke BTS Saphan Taksin Station, down to the dock Sathorn (under the BTS station) and wait for the free shuttle boat Asiatique. Travelling around 10 minute.
9. Madame Tussauds Bangkok and Siam Ocean World
It was two of the family that is located right in the heart of Bangkok's shopping center. Arguably Madame Tussauds Bangkok and Siam Ocean World is one package, because they also sell combo tickets, that give more discounts. So you can come to these places at a cheaper price.
At Madame Tussauds Bangkok, which is one of the 6 Madame Tussauds wax museum in Asia, and is the closest to Indonesia. Here you can see, touch and take pictures with the characters and your favorite foreign celebrities, as the first President, And. Sukarno, Obama and his wife, Oprah Winfrey, David Beckham, Angelina Jolie dan Brad Pitt, Lady Gaga, Katy Perry to Doraemon. Can get the Early Bird ticket, where if I went under the clock 12 Lunch will be able to discount 40% (special online purchases), and also a combo ticket to the Siam Ocean World.
While at Siam Ocean World, You can see the thrill of life under the sea, but below the most popular malls in Bangkok, Siam Paragon. Siam Ocean World is one of the largest aquarium in South East Asia, which has a collection of thousands of marine, from all over the world. Divided into 7 zone, You can also take a glass bottom boat, where can i see live animal collection directly under our boat ride, which is essentially of glass, The main aquarium pool of three sizes Olympic!
Madame Tussauds Bangkok
Address: Siam Discovery Center, Floor 6
Such: +66 2 658 0060
Website: madametussauds.com/Bangkok/en/
Business hours: 10.00-21.00 (last incoming clock 20.00)
Transportation: Naik ke BTS Siam Station, walk to the mall Siam Discovery
Siam Ocean World
Address: Siam Paragon, Floor B1-B2, 991 Street lights, Bangkok
Such: +66 2 687 2000
Website: siamoceanworld.co.th
Business hours: 10.00-21.00
Transportation: Up and down in Siam BTS Station
10. Jim Thompson's House Museum
Jim Thompson's name is inseparable from the development of Thai silk, or Thai silk. Maybe this time you only see this as a brand name in clothes quality silk, or stop by the store once spread across Thailand and around the world.
Once out of the military service, Jim Thompson from America helps businesses grow silk in Thailand after World War II. During the 30 Jim years to expand its business in this industry, and its products are well-known to Paris, New York, London and Milan are the fashion mecca of the world.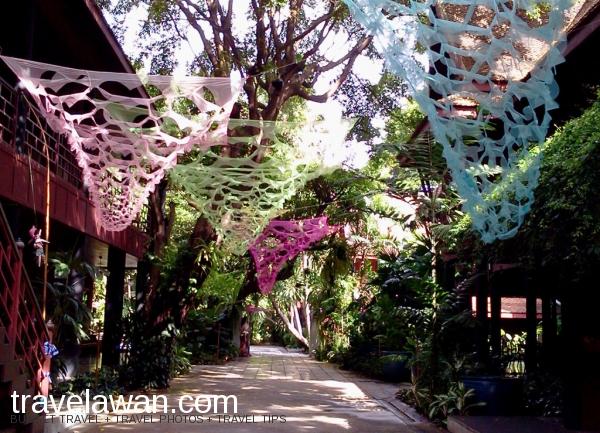 The entrance to Jim Thompson's House Museum in Bangkok
Jim Thompson's House Museum was the residence of Jim, the fate of less fortunate, because one day in the year 1967, he disappeared and was never found again in the Malaysian jungle. But his legacy remains to be developed up to now. Although long gone, work and legacy remain stable. Home complex consisting of 6 pieces of traditional Thai-style house is packed with art collection.
Attraction is a very interesting, especially for you who want to know more about Jim Thompson and a wide collection of items owned art. Entrance fee has been accompanied by guided tourfree.
Address: 6/1 Soi Kasemsan 2, Rama 1 Road (opposite the National Stadium)
Such: +66 2 216-7368
Business hours: 09.00-17.00 (tour last hour 17.00)
Transportation: Naik ke BTS National Stadium Station, exit Exit 1. After descending the stairs BTS, road turn right in to Soi Kasemsan 2.
So is the 10 tourist attractions in Bangkok that must be Visited. Do not miss to stop, if later on the streets of Bangkok.
& Nbsp;
source : http://travelawan.com/blog-travel/10-tempat-wisata-di-bangkok-yang-wajib-dikunjungi.html