Here are 10 Tourist Places in Lombok Mandatory Visited
1. Mount Rinjani
Mount Rinjani is an icon at the same tourist attractions in Lombok's most famous. With a height of more than 3,700 meter, Mount Rinjani is the second highest volcano in Indonesia. For Hindus, Mount Rinjani has its own spiritual value because it is the residence of the gods.
Wisata favorit di Mount Rinjani is climbing. Mount Rinjani is considered as the most beautiful mountain scenery in the Asian, so many people climb this mountain to enjoy the scenery is second to none. To be able to reach the summit of Mount Rinjani, You will take a few days, therefore carefully prepare all your needs.
& Nbsp;
2. Pura Batu Bolong
Pura Batu Bolong is located in Senggigi, Chili. Pura Batu Bolong is located on top of a black rock that juts into the sea. In the middle of this rock there is a hole, that this temple named Pura Batu Bolong. As mock in general in Bali, to be able to enter the Pura Batu Bolong, You have to use the yellow-colored cloth at the waist. Pura Batu Bolong background views of Mount Agung and the Lombok Strait, so very beautiful to take pictures, especially at sunset.
& Nbsp;
3. Senggigi Beach
Senggigi Beach is one of the tourist attractions in Lombok is the most visited by tourists. Located in the western part of the island of Lombok, Senggigi beach atmosphere similar to Kuta Beach in Bali, but has calm waves making it perfect for swimming and snorkeling. Has a long coastline, This beach will pamper you with a beautiful sand beach and crystal clear waters. Because it is one of the tourist attractions in Lombok's most famous, Senggigi Beach has support facilities like restaurant, hotel, bar, means of transport, pulse seller, and others are very complete.
& Nbsp;
4. Taman Narmada
Narmada Park is located in the village of Lembuak, about 10 KM to the east of the city of Mataram. An area of ​​approximately 2 acres was built by the king of Mataram in Lombok 1727. Formerly, This park is used as a resting place and a ceremony, The park now has been converted to a sights. It is unique from Narmada Park, This garden design is a miniature replica of Mount Rinjani, In addition, there are also springs of Mount Rinjani, which is believed to make you young when you wash your face and drinking water.
5. Niagara Spring Gile
Located in North Lombok, Spring Gile Waterfall is about 60 BC right 3 hours drive from Mataram. Located in the village of Senaru, Niagara Spring Gile is the entrance early ascent of Mount Rinjani. Because it has the same water source with water in Narmada Park, water in Niagara Spring Gile is also believed to make you young when you use for bathing or washing face. To be able to enjoy the fountain of youth in Niagara Spring Gile, You have to climb about 200 first rung.
6. Segara Anak Lake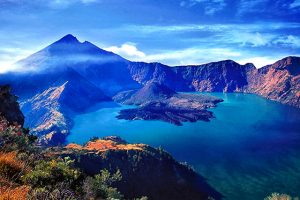 Segara Anak Lake is one of the tourist attractions that must be visited in Lombok, especially for the nature lovers. Located in the crater of Mount Rinjani, Segara Anak Lake is still believed to be part of the sea on an island split into. This is because the color of the lake water is blue, exactly the same as the color of sea water.
Usually when you take to climb Mount Rinjani package with a travel agency, You will also be brought to the Segara Anak Lake and overnight at the lake. The main activity in this lake is fishing, therefore, do not forget to bring your fishing pole. To be able to reach Lake Segara Anak, You have to walk for approximately 9 hours of the end point can be traversed path of motor vehicles, tiring but it will not disappoint.
& Nbsp;
& Nbsp;
7. Gili Trawangan
Gili Trawangan is the largest of the three islands group dyke. Gili Trawangan is the most visited island in between 3 existing earthen islands. The island became famous since 1980 when a group of backpackers find this beautiful island. On this island there are no motorized vehicles, so as to be able to roam the island, You can use a lot of bikes for rent on the island. The most favorite tourist activity in Gili Trawangan is a diving, snorkeling, Surfing, dan yoga.
& Nbsp;
8. Kuta Beach Lombok
Kuta Beach is not only in Bali, but also in Lombok. Located in the village of Kuta, about 56 BC dari kota Mataram, Chili, Lombok Kuta beach has fine sand pepper, therefore many locals call this beach as a beach pepper. Lombok Kuta Beach is one of the tourist attractions in Lombok's most beautiful, even one of the most beautiful in Indonesia because it is rarely touched by human disturbance. Tourism is the main surfing beach because the waves which is one of the best in the world. Other attractions to do in Kuta Beach Lombok them: fish, dive, snorkeling, mounted, etc..
& Nbsp;
9. Pantai Sire
Sire Beach in Lombok is more or less 35 BC dari kota Mataram. Sire Beach is a tourist spot in Lombok which is worth a visit because of the beauty it has to offer. When the weather is sunny, You can see Mount Rinjani from this beach. With a coastline almost 4 KM, Sire Beach offers quite a variety of tourist activities such as swimming, snorkeling, canoeing, to fishing. If you do not bring tourist equipment for these activities, no need to worry because there are a lot Sire Beach rental tools supporting travel.
& Nbsp;
10. Monkey Forest Pusuk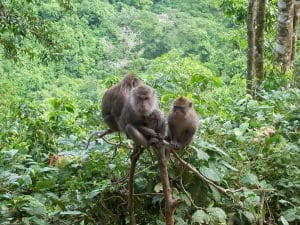 Pusuk Monkey Forest is part of the region of Mount Rinjani, Chili. Pusuk Monkey Forest is located at the summit of Mount Rinjani and is the habitat of hundreds of monkeys. On the way around the Monkey Forest Pusuk, be careful when driving, because often these monkeys playing in the middle of the road. Monkey Forest Pusuk usually a resting place and a place for tourists who are heading Niagara Spring Gile. When you bring the food, these monkeys will try to take it from you, Do not fight these monkeys because they may be angry.
source : http://anekatempatwisata.com/10-tempat-wisata-di-lombok-yang-wajib-dikunjungi/
& Nbsp;
& Nbsp;
& Nbsp;
& Nbsp;
& Nbsp;