& Nbsp;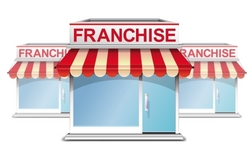 Franchises from the beginning until today has undergone many developments in various types. Namun di Indonesia, waralaba masih identik dengan produk makanan dan minuman. Bagi calon entrepeneur muda, bisnis waralaba adalah cara termudah untuk belajar bisnis. Dengan menjadi waralaba atau franchisee, maka kita akan mendapatkan bimbingan dari pewaralaba (franchisor) about tips and effort to build his business empire. Yet, although with the capital that has been given to franchisees and various guidance has been done by the franchisees intensively, can not guarantee business done will meet with a success.
There are various factors that cause a lot franchisee to fail in business franchise, among others:
1. Are quite high
In order to participate in a franchise business on a particular product, we have to submit the initial capital in order to have the right to use the product name franchisees and get help and guidance tools and. Although sometimes capital that must be submitted are considered high, especially franchises from abroad. For example, McDonalds requires the franchisee must provide a deposit of capital around 405 million to hold rights (permission) producing McDonalds over an extended period of time 20 year.
So to be able to have fast food restaurant McDonalds require funding of about 1 billion more, good for site preparation, building, raw materials and employees. Unlike the local franchise which will cost less. Moreover, Also there are some franchises that ask for a percentage of profits / which has been obtained franchisee turnover each year in the contract agreement.
2. Raw material costs are too expensive
Usually, franchisees have provided raw material supplier for the franchisee to manufacture its products. They argue that the raw materials from suppliers who have been invited to work already meet quality standards. So the price of raw materials was a bit more expensive than the market price. Whereas such cooperation, pewaralaba also get a commission. Thus the profit margin earned by franchisees could become smaller.
3. Venture capital is not enough
There are some franchisees that provide attractive option for prospective franchisees to join the business, which gives the option installment of funds and supply of materials for franchisees who are still undercapitalized. Yet, generally the franchisor (franchisor) do not want to be involved in the provision of funds for the franchisee (franchisees) the lack of capital, so that the franchisee must be independent in seeking additional capital. In lean times and usually tersebutlah, the franchisee must be shut down in the middle of the road.
4. Granting franchise location is not strategic
The franchisee usually take into account also the location strategy, and to allow a representative of the franchise at a distance / a certain radius. Yet, not a few franchisees who allowed the establishment of dozens of franchise in one location (city) with the hope that he get more profit. It is not nice, because the franchisee had to compete with the brand and the same product in one location (certain radius).
5. Creativity is restricted
In the franchise business, Sometimes franchisors require franchisees to use falisitas uniform in their business places, or spot colors, Billboard, knick knacks, as well as other accessories. So that the power of creativity that will be developed by the franchise be limited to attract consumers. It becomes a negative value for entrepreneurs who have high creativity.
6. Determination of improper location
One of the keys to success in building a business is selecting the right location. In determining the location of which will serve as a place of business franchise, it's worth doing a little research, Good hustle locations, interests of citizens around the product to be sold, the number of rival attempts at similar products, and economic conditions being experienced by the local community.
7. Pewaralaba bankruptcy
What happens if the parent turns business into bankruptcy when businesses are being mangalami progress. So we have to fend for themselves without further assistance and guidance from the franchisor. This can give the distress and fear in ourselves. The same thing can happen if your business associates (same franchise) who was in another location turned out to be bankrupt, so that raises concerns.
source
butuh jasa pengurusan perizinan PT , CV , PT PMA , License , TDP , KOPERASI ?
contact :
pin BBM : 235F8BA6
Hello : 08111086915
Sympathy : 082129737777
xl : 081808910704
& Nbsp;